Join us for Inclusive Open Play  Saturday Mornings from 9-11 AM. Our center offers a wide range of activities for all age groups.  Come check out our center, mingle and relax while your kids play and have fun!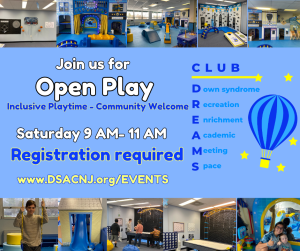 Cost for NON-DREAM TEAM MEMBERS. Payment will be taken at the center or can be
VENMO – @DSACNJ-NJ or PAYPAL @ Down Syndrome Association of Central New Jersey
$10 for 1st child and $5 for each additional child. (payment made at center via cash, check, venmo/paypal)
Inquire about our Open Play Pass Memberships!
Questions: email us at Clubdreams@dsacnj.org or 609-883-0321 or ask for a tour of our center
Register below.